Winner Fadeafrica × Didi Museum Art for Land contest 2020
Aaliya Burhan is a grade 9 student. She stays in the UAE with her parents and aims to address the issue of desertification and Drought with her painting.
>
OUR MISSION STATEMENT
FADE is an international non-profit organization formed by Dr. Jibunoh and is accredited to the United Nations World summit on sustainable development. FADE was established on May 11th, 2000 (incorporated in 2002) and is vehemently committed to the prevention and control of environmental degradation and climate change with an emphasis on desertification and desert encroachment. FADE aims to rid the community of their most devastating societal ills stemming from desertification – displacement, illiteracy, poverty, tribal conflicts, food shortage and environmental degradation.
HUNGER FOR POWER
Hunger for power is Dr. Newton Jibunoh's latest literary work. It is an autobiography of the famed adventurer and desert warrior.
Dr. Jibunoh carries the reader on his journey from an orphan boy, an adventurer and how he emerged at the pinnacle of corporate Nigeria.
The former CEO of Costain West Africa Dr. Jibunoh, holds nothing back as he narrates to the reader his life story as a husband, father, business man, buiding engineer.
Now available for purchase!
BUY NOW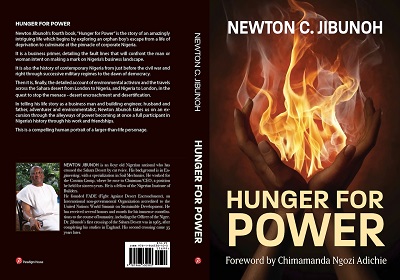 Recent Articles
Newton Jibunoh's life over the years is one that should be preserved and imitated. His strong heart and can-do mentality are among his many remarkable traits and accomplishments. His concern for the environment, art and culture, education, leadership, and the… Read More
"With each degree rise in average global temperature, The consequences of global warming are becoming more and more severe". Many people are given to the tendency of confusing weather and climate. This is because even in the Nigerian Pidgin-English parlance… Read More
'January 1, 2023, Eighty-Five personalities planted Eighty-Five trees to celebrate this iconic man to mark his 85th birthday. He has been selfless in his quest for the revival of the ecosystem of the forests of Nigeria. If as many as… Read More