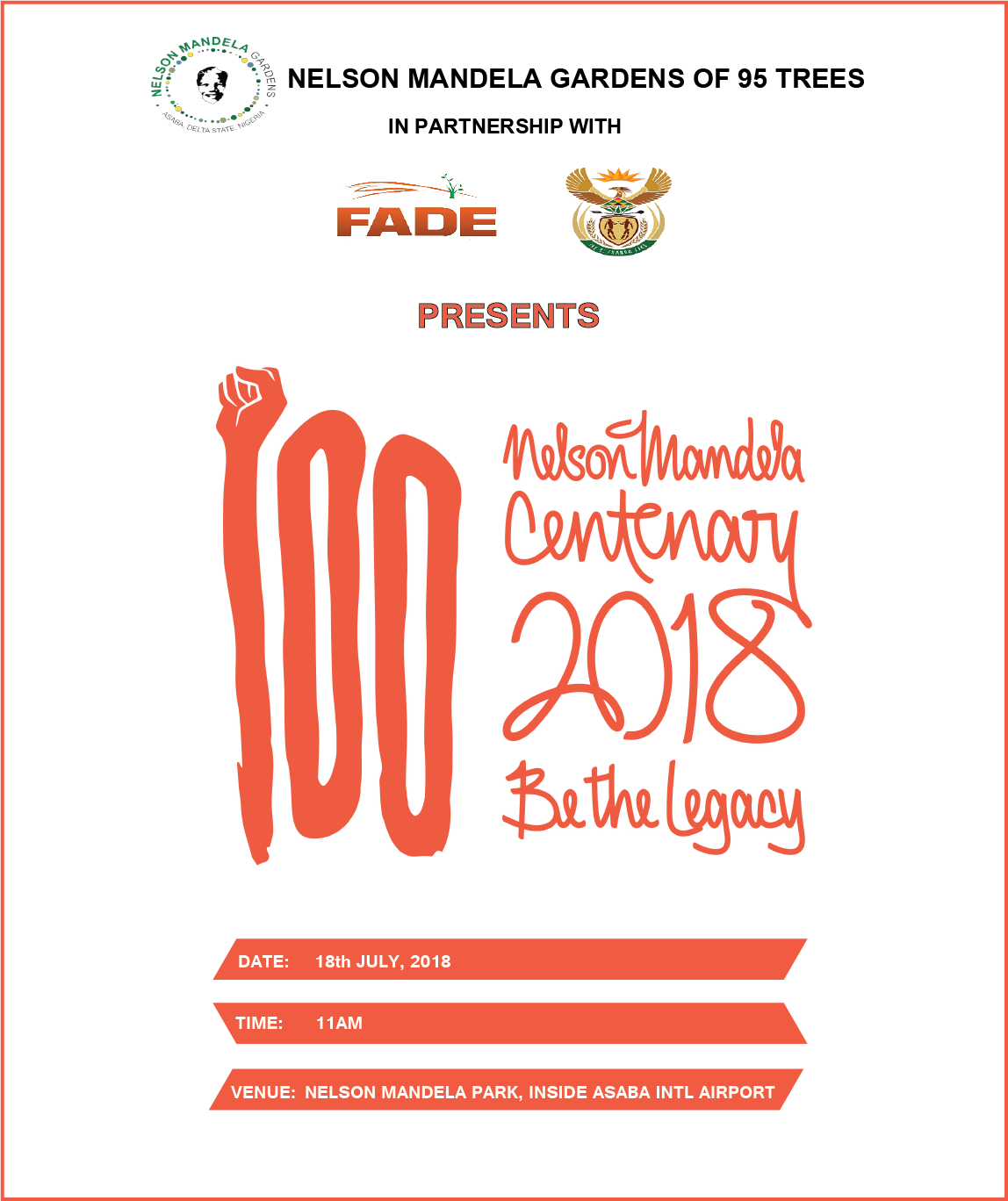 Some Words of Wisdom from Nelson Mandela
One of the most difficult things is not to change society-but to change yourself.
There are a few misfortunes in this world that you cannot turn into a personal triumph if you have the iron will and the necessary skill
Religion is about mutual love and respect for one another and for life itself. It is about the dignity and equality of humankind made in the image of God.
It is up to the youth to decisively and finally break our society out of constricting and divisive definitions of our past.
We must ensure that color, race and gender become only a God-given gift to each one of us and not an indelible mark or attribute that accords a special status to any.
The Nelson Mandela Gardens of 95 Trees, in partnership with FADE Africa and The South African Consulate Lagos will be celebrating the Centenary anniversary of human rights activist and former South African President, Nelson Mandela, at the Nelson Mandela Park inside Asaba International Airport. This event slated for July 18th, 2018 is our effort to commemorate and celebrate the life of a true leader.
CLICK HERE TO RSVP
FADE Africa is currently looking for volunteers for the Nelson Mandela Centenary event
Please complete the form in the link to get started.
VOLUNTEER
OUR MISSION STATEMENT
FADE is an international non-profit organization formed by Dr. Jibunoh and is accredited to the United Nations World summit on sustainable development. FADE was established on May 11th, 2000 (incorporated in 2002) and is vehemently committed to the prevention and control of environmental degradation and climate change with an emphasis on desertification and desert encroachment. FADE aims to rid the community of their most devastating societal ills stemming from desertification – displacement, illiteracy, poverty, tribal conflicts, food shortage and environmental degradation.
HUNGER FOR POWER
Hunger for power is Dr. Newton Jibunoh's latest literary work. It is an autobiography of the famed adventurer and desert warrior.
Dr. Jibunoh carries the reader on his journey from an orphan boy, an adventurer and how he emerged at the pinnacle of corporate Nigeria.
The former CEO of Costain West Africa Dr. Jibunoh, holds nothing back as he narrates to the reader his life story as a husband, father, business man, buiding engineer.
Now available for purchase!
BUY NOW