As I contemplate my lecture in a few days in Paris on leadership at the University of Schiller, as part of the graduation of the university, where I have been invited to speak, I am saddened by how hard it is to find home-grown examples on good leadership. This is an issue of grave importance to me as, in my 80-plus years, I have seen my country, Nigeria, flourish under good leadership but I am also seeing it turn to near ruins as a result of poor leadership.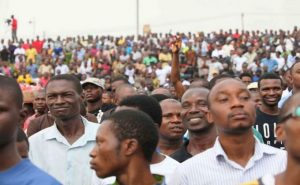 Though my lecture isn't for another day, I decided against being like some of our current leaders who speak the loudest abroad about matters affecting their domestic audience. My people have a saying, "a good dance must commence from home," therefore, as my contribution to The Sun newspaper today, I have taken part of my lecture that relates to the Nigerian leadership situation.
To begin, how can we define the concept of leadership? A simple definition of leadership by the Merriem-Webster dictionary is: "the power or ability to lead other people." Ability to lead can further be distinguished by physical ability, mental ability and, in some cases, spiritual ability. The bottom line is, before an individual can assume the position of a leader, they need to have the capacity to lead.
Another important characteristic of a leader is a man/woman of integrity. Leadership is honesty that can be held accountable to the people that are being led at any time.
Leadership is also knowing when to quit the stage, an attribute greatly lacking with most of our African leaders. At this point, I should be clear that the burden of good leadership doesn't just fall on those aiming to be leaders.
The truth is we can't all be leaders but we can all demand accountability in leadership like it was done in the early days of Nigeria.
If we take time to reflect on the journey of leadership in Nigeria, from Independence till date, it forces us to ask if our leaders were really prepared for the challenges and obstacles they faced on their journey. With that being said, I find it very odd that we still dip into the same pool of leaders to select our heads of government during elections.
Albert Einstein would call that insanity as he is credited with saying, "The definition of insanity is doing the same thing over and over again, but expecting different results." In this case, we vote for the same leaders and expect change.
In a country such as Nigeria, where we need strong policies put in place by young minds with vision, it is tiring to see us continue to leave the fate of this country in the hands of the geriatric population. It makes me wonder when the youth will rise up and take what belongs to them.
How can we say our children are the leaders of tomorrow but we have refused to empower them to take positions of leadership? By this, I don't mean just vacating positions for them to occupy when they have not been groomed by right example to lead any differently from their predecessors. The true test of a leader's success is in his/her successor. Still, we can all agree that a man at 75 years old has no business governing a nation, instead, he should be retired, spending time with his family and serving as a mentor to the young people in leadership positions.
There was once a time in this country when a 32-year-old man in the person of General Yakubu Gowon became Head of State. President Muhammadu Buhari was 41 years old when he became the military Head of State in 1983. It is quite baffling that the same man contested for and won a presidential election 30 years after his first tenure ended.
I am not here to point fingers at the youth or call them all sorts of names but I think it is imperative that they take their future in their own hands for the sake of our beloved country.
Leadership doesn't start at the age of 50, neither does it start at your workplace. Leadership starts in our homes, our schools, and our communities.
Back in my day, the youthful population was actively involved in the matters of our country. We took part in student body elections at the universities and it was from there that the true leaders of our generation started to distinguish themselves, not by violence but by strategic planning and execution. Today, I don't see that happening in our universities anymore. Our youth have been distracted by all sorts of things that don't align with the vision of a better Nigeria.
There seems to be a lack of courage within our youth that has anchored them from reaching their full potential. They are not properly engaged within political circles and have decided with reckless abandon not to concern themselves with matters of the state, which, unfortunately, is a recipe for disaster.
The leaders of today started very young and had a clear vision of what type of leaders they were going to become and when they were going to become those leaders.
Has the Nigerian state completely failed the youth? I look around and I do not see prospective young leaders anywhere. Where is this generation's Wole Soyinka, Chinua Achebe, Yakubu Gowon, Anthony Enahoro, etc?
I call out to my colleagues who can also see the void in our leadership ecosystem to help nurture these young minds so they can begin to see themselves as the leaders of tomorrow that they truly are.
We have had great leaders in this country and I believe it will be a great disservice if I end this article without mentioning a few prominent individuals who emerged from institutions that had a bottom-up leadership arrangement. It is on this note that we remember:
•Michael Imodu and Hassan Sumonu, who were veteran trade unionists and did remarkable things in the leadership positions they held.
•Professor Beko Ransome-Kuti, who spent almost his entire professional life in the medical ward (in Nigeria and abroad), and later became the Minister of Health.
•Professor Fafunwa, who spent most of his life in educational institutions (particularly in academia) and later became the Minister of Education.
•Engineer Jemade, who also distinguished himself in the engineering profession and later became the Minister of Works.
•Chu Okongwu, who was brought back from the World Bank to become the Minister of Finance.
•The late Olu Onagoruwa, who served as the president of the Nigerian Bar Association and went on to become the Attorney-General of the Federation. Unfortunately, becoming the latter proved to be a huge challenge to the man Onagoruwa once was.
•We also remember Professor Wole Soyinka and Professor Awojobi, who came from the academia to become activists.
•Tai Solarin, an educationist, and activist who spent all his life and resources in pursuit of education for the young and finally built his own college.
My list is not limited to those mentioned above but they showed leadership and were able to hold the government to account. Most government institution respected and revered them.
Today, only the likes of Olusegun Obasanjo, T.Y. Danjuma, Ibrahim Babangida, and Soyinka seem to be voicing an opinion that will challenge the government. Although some of these voices might also need to answer questions, I hope many young people will begin to ask about what went wrong with our nation. These men are all in their late 80s and although they are still active, there will come a day when they won't be anymore. Who will speak for the Nigerian people when they are no longer here? Who will provide insights into what Nigeria once was and can still be?
The issue of misrule and poor leadership is not exclusive to Nigeria, as many other African and non-African countries have had their fair share of the problem in varying degrees but, unlike "the giant of Africa," a number of these countries have managed to and are working earnestly towards building a nation to be proud of. But not Nigeria.
Ours seems to be a case of growing backwards, as I am forced to wonder how we got to this point where Harvard, a renowned world university, finds it highly educational to study why Nigeria as a country has failed to thrive from 1960 to 1999, in respect to relative China and India, despite its endowment in human and natural resources.
It had been perceived in the 70s and 80s that, if there was going to be another emerging nation similar to the United States of America, it would be Nigeria because of our huge deposits of human and natural resources, but, sadly, in 2018, that is still not the case.