As the Christmas of 2017 was approaching, the usual festive activities had kicked off with hampers in almost every street shops or being hawked on the roadsides along with all sorts of Christmas commodities.
The hampers and other Christmas goodies were dangled across peoples' faces to attract the usual buyers. On a fateful day, in order to avoid the insane rush as it gets closer to Christmas Day, my son Chukwuemeka decided to shop early at a particular shop along Adeola Odeku in Victoria Island. As he came out of the store, a responsible looking gentleman approached, this gentleman so well spoken told my son his life story of how he had been made redundant from his workplace, his four months salary and benefits not paid and as Christmas was approaching with a wife and two children and some bills to pay, he needed a one-off help to settle bills till he got another job or something to do. All this he said in near tears that almost made my son join in the teary affair. In a bid to help, my son who felt the cash he had was not enough went to the cash machine while the gentleman was waiting and withdrew more money for him. The 'man in need' was eternally grateful. My son remembered a proverb I once referred to that is "if you give what you can afford it is gracious but if you give what you need it's a novelty." So that day he went home feeling very good but could not even tell his wife because at the time they were under immense financial trouble.
You can imagine his surprise when in less than 10 days, a day before Christmas to be precise, he came to visit me a few kilometers from where this gentleman had initially accosted him and ran into him. At first, when he saw the gentleman approaching he thought he was coming to show gratitude or maybe appreciation for the earlier help he had rendered. To his shock, the gentlemen did not even recognize my son but proceeded to repeat the same pathetic story. So who is the beggar and who is the giver?
Not too long ago, I listened to the former Minister of Agriculture now President of the African Development Bank, Adewunmi Adesina, being interviewed on CNN and he made a very clear point, which was that the continent of Africa, in particular, Nigeria, is not poor. It is the people that are poor. He went further to explain that there cannot be this much poverty in a continent that is endowed with so many resources, metal, iron, clay, gas, oil, and cocoa, just to mention a few, as well as human resources. I have often wondered, at what stage in a person's life does he or she get to that one is able to convince one's self that the only way to survive is to beg? Some may argue that begging stems from poverty or disability; I beg to differ though because the man we recently celebrated on June 12, the President we never had, Chief M.K.O. Abiola came from abject poverty.
We are made to believe that he, Abiola, laboured in the day and played in a band at night in order to educate himself. And when he became very successful in business, he was able to identify with every class because he had seen it all, the poor, the middle class and high class were able to identify with him, which was why when he decided to contest for President, people of all classes regardless of religion voted him into power.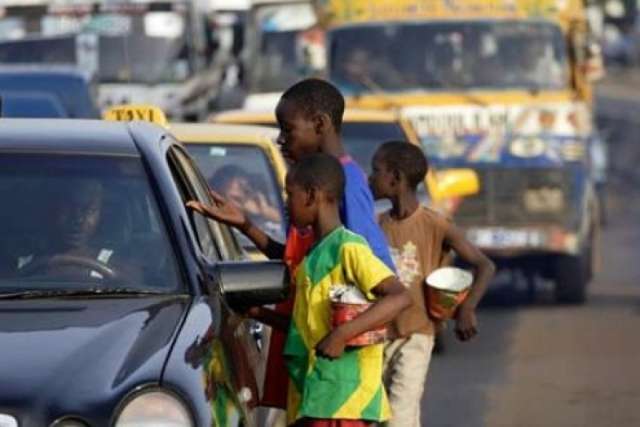 When you travel the continent of Africa, you experience different categories of beggars. Some as a result of disability, some by the roadside performing and entertaining but some I believe go with the notion that they are more likely to make more money from begging than engaging themselves in some meaningful form of labour, like the gentleman who approached my son.
I have worked as a volunteer in a school for the disabled and physically challenged, particularly blind men and women, and over the years I have seen many of them become lawyers, engineers, mathematicians, musicians, teachers, etc, and in all my years as a volunteer I have never known any one of them preferring to beg after their graduation. It now makes me wonder, at what time in life do we engage in begging? How can someone put a child through the act of begging, no matter the cultural, traditional or religious connotation that goes with such an act? How safe are we when security men and women who guard our airports, churches, mosques, hotels, shopping centres, highways, etc, resort to begging, sometimes with guns in hand? The latter is an act that has become endemic in our society.
Now the Givers
The culture of begging can only exist with givers. To the givers, let me first recite an old Chinese proverb: "You give a poor man fish and you feed him for a day. You teach him to fish and you give him an occupation that will feed him for a lifetime." This proverb, simply explained, means it is more worthwhile to teach someone to do something for themselves than do it for them on an ongoing basis. Inasmuch as it is understood that there is a religious and cultural connotation that evokes a sense of giving, permit me to quote the Bible from Deuteronomy 15:10, "Give generously to them and do so without a grudging heart; then because of this the LORD your God will bless you in all your work and in everything you put your hand to." The Quran also places a huge emphasis on giving charity; in fact, it is an obligation and command for the Muslim to do so! The Quran repeatedly commands the Muslims to give Zakat, which you can essentially call a charity tax. One of the verses I can remember from the Quran (2:43) says, "And be steadfast in prayer; practice regular charity, and bow down your heads with those who bow down."
However, the Quran also forbids Muslim from doing this generous act just so he can be praised (4:38), "Not those who spend of their substance, to be seen of men, but have no faith in Allah and the Last Day: If any take the Evil One for their intimate, what a dreadful intimate he is!" So, the Quran condemns those who give charity just so it can be seen by everyone else, just so they can show off to everybody for their own big ego, the Quran is totally against this, and wants Muslims to give charity out of pure sincerity! There have been several cases of people who have acquired funds from illicit ways only to have them give generously to churches like the case of an army officer who defrauded the Bayelsa State government to the tune of N150 million and then gave N11 million to Winner's Chapel as tithe/offering. And the case of Lawrence Agada, who worked in Sheraton Hotel, committed fraud and then funded a series of church projects in Christ Embassy. So, let us not be fooled by those who give so generously, as their generosity is no longer sincerity. My son, Chukwuemeka, found out the hard way that what he taught was generosity ended up from a grudging heart. Once he found out he had been scammed, he regretted his act of generosity. I am a man who abides by several doctrines and I believe it is very important to help the needy, as both the Quran and Bible state. But money is not the only way to help the needy, you can help teach them a skill, by giving them your time, you can help them find some type of gainful employment, you can help a child through school, you can give back to the environment by planting a tree, or even by cleaning up your environment. So, givers, I ask, are you empowering or enabling?