Dear Friend,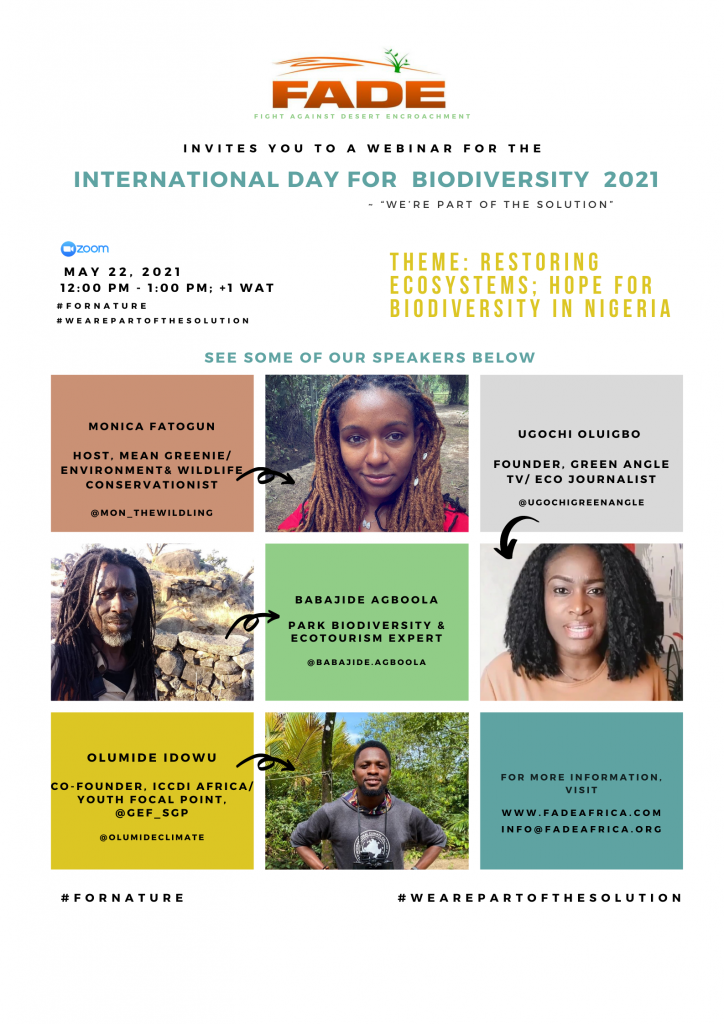 We are pleased to invite you to FADE Africa's zoom webinar on the 22nd May 2021 to mark the International Day of Biodiversity 2021.
The slogan for this years event is 'We're part of the solution'. Which is a very wonderful premise.
The theme for this webinar is Restoring Ecosystems; Hope for Biodiversity in Nigeria.
We believe that to effectively be part of this solution, we must either work together to support ideas that will encourage climate action and solutions to the decline and endangerment of biodiversity in Nigeria.
Some of our speakers for this webinar are:

Ugochi Oluigbo
Founder, Green Angle TV/ Eco Journalist
(@ugochigreenangle)
Monica Fatogun
Host, Mean Greenie/ Environment& wildlife Conservationist
(@mon_thewildling)
Babajide Agboola
Park Biodiversity & Ecotourism Expert
@babajide.agboola
Olumide Idowu
Co-Founder, Climate Wed/ Youth Focal Point
@GEF_SGP, @olumideclimate

Time is 12pm – 1pm +1 WAT
Date: Saturday, 22nd May 2021

To register for the event, please click on the link below.
https://forms.gle/9eK7Un4m989pGhWc8
See you there!