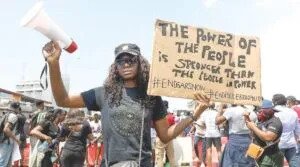 As a follow-up to the first part of this article written by my mentor and hero, Dr Newton Jibunoh and published last week, I did agree to provide the second part of it. Just to reiterate that the subject matter is the outcome of the long discussion on Nigeria that Dr Jibunoh and I had during his recent visit to London. A fantastic storyteller, I am always looking forward to spending time in his company to listen to his fascinating tales and experiences whilst at the same time having interesting discourses on the ever-intriguing Nigeria project.
One has to be living on Mars to not notice the mood of Nigerians, especially among the Nigerian youth, – the "Sòròsókè" (literally meaning "Speak Up") generation who championed the EndSars movement. All the indices are there to show that Nigeria is in a season of discontent and there is a genuine desire for real change. Given the electoral value and weight of the 33 million Nigerian youths between the ages of 15 and 18 years, we know that it is only a matter of time before a new party emerges to shake the established order of the two dominant parties. They obviously need a platform to harmonise and articulate their politics. Quite fortuitously, Peter Obi's Movement and the Labour Party provide that much-desired platform and home for Youth politics. His message resonates with theirs and he is seen not to have been tainted by the ruling federal government that is responsible for the suppression of their legitimate EndSars protests in October 2021 in which at least, twelve precious lives were brutally cut short.
Federal universities have been shut since 14thFebruary this year when ASUU started another indefinite strike. For five months and still counting, thousands of Nigerian students have been sitting idly at home whilst their working-class parents have been enduring untold hardships in terms of rising food prices, power outages, unprecedented level of general insecurity and a double whammy of fuel scarcity and its unaffordability. There is therefore a convergence of angst and grievance between the youths and their parents. Most of the ruling elite and the upper middle class are somewhat removed from this, as their youngsters are studying in universities in various developed countries and are unaffected by the strike actions.
For the youths to have a genuine and credible chance of making an impact in reshaping the current political landscape of Nigeria, Dr Jibunoh posits that they need a ten-year plan. They have to lay the foundation for 2031 from now. Power is never voluntarily handed over. It has to be won from the holders through grit, meticulous planning and strategic opportunism. It would take an awful lot of time, energy, money, human resources and perseverance to set up a political structure that can successfully challenge and dislodge any of the established two parties. All politics is local, and with 774 local government areas and each having between 10 and 20 wards, to move from a fringe party to the mainstream that can challenge the centre requires having a well-oiled and functional party structure in each ward. This takes time and the most enduring and difficult to build and affect is the strict adherence of members of political parties to their cause – party faithfulness. The recently concluded election in Osun State is a stark reminder of the fickleness and un-bankability of armchair and remote, social media support. Peter Obi should therefore double down his efforts to build an enduring party structure that is capable of producing enough party adherents to cover comfortably all the 176,846 INEC polling units by 2031.
To salvage Nigeria, religion and ethnicity should not have anything to do with the choices we make as a people. This should be based purely on merit, policy, competence, experience and above all, proven integrity. Where poverty is rife, this becomes almost impossible. Ongoing events in the UK profoundly highlight the contrasting fortunes of the tragedy of poverty and the liberating effect of sovereign affluence. To put things into context, 85% of the UK population is White, with 80% of this being White British. Just 2.5% of the British population are Indians and 3.3% are Black Ethnic groups. In the same vein, the UK being a Christian country with 60% of the population claiming to be Christians and 25% without any religion, Hindus represent 1.5% of the population, Muslims 4.8% and Buddhists, just 0.4%.
Of the last six contestants for the Prime Minister's job, two of them are Indians, with one being a Hindu and the other a Buddhist. One is actually of Nigerian parentage and left Nigeria at the age of 16. Yes, Kemi Badenoch – nee Adegoke is one of us! Another one was born in Baghdad and is Kurdish Iraqi. Ceteris paribus, one of them is most likely to become the Prime Minister of Great Britain. The profundity of the outcome is that if it was on the basis of religion, only Christians would be voted into offices in the UK. If it was on the basis of ethnicity, it would be impossible to have non-white British in Westminster as they are massively in the majority.
It should not matter which part of the country Peter Obi comes from if he is deemed to be the best by voters' assessment of his policy and résumé. Neither should it matter whether Asiwaju Bola Ahmed Tinubu presents a Muslim/Muslim ticket. In the same vein, it should not be seen that the only way to checkmate Atiku Abubakar's northern appeal is to have another North Easterner in APC to be successful at the polls. Financial inducements should not be a tool for getting people's votes (vote buying). These are the tragedies of poverty – a chronic one at that. Obi's followers should stop being clannish and playing the Igbo victims' card, it will not work in his favour – he should be seen and presented as a Nigerian coming to serve Nigeria. An example was seen in Osogbo during the Labour Party rally for their governorship candidate. A lot of people were put off when they started the mega rally with shouts of "Igbo Kwenu" and then singing "nzogbunzogbu Enyimba enyi". That is sectionalising the party and is not what Obi stands for or the youth movement. They mean well, but they are not helping his cause or the youth's cause. Christian followers and supporters of Tinubu should not be deterred by a Muslim/Muslim ticket – his running mate should be seen as a Nigerian, coming to serve the collective interests of all Nigerians. Atiku should not be seen by the Northerners and Fulanis as representing them, but coming to represent all Nigerians.
Having found a platform in Obi's LP, and the seeming synergy between their convergent movements, Nigerian youth are presented with a unique opportunity to create the Nigeria of our dreams – a prosperous, peaceful and inclusive Nigeria where every one of her citizens has equal opportunities. A new Nigeria where each individual has the right to control their own life and to share in the opportunities, enjoyment, challenges and responsibilities of everyday living. It is a long journey that requires steadfastness and lots of finance.
Akin Olukiran is a social commentator, political analyst and solar developer who writes from London. He can be reached on Olukiran@gmail.com