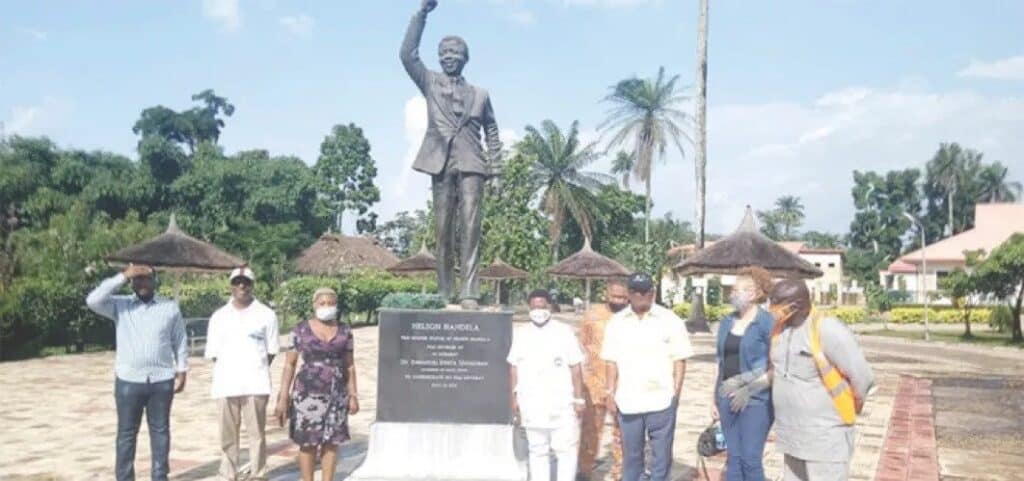 As a follow-up to my last article, "There are no more Nigerians in Nigeria" which painted a gloomy picture of the few Nigerians still standing but a recent encounter has rekindled my belief that there may still be a glimmer of hope left. The encounter was with a bunch of young secondary students who were visiting the Nelson Mandela Gardens in Asaba, Delta State. The students numbering about 80 male and female were very happy that I was in the garden during the day and they got to meet me. I was later to find out that most of them remarked that it was a memorable day that will live with them for a very long time. At the end of my few minutes of talking to the students which was requested by one of my assistants Oluebube Okafor who took the students on a tour of the Garden, I was surprised to note that more than half the students wanted to ask questions at the end of my talk but the school principal allowed only twelve of them to ask questions.
I want to share the questions that came from these very young Nigerian students which left me with some hope that some good may be coming out of our nation in the next few decades, i.e. at the time these young Nigerians come of age but before the questions, let me refer to an article I wrote in the very column a few weeks ago under the title, "The Voting Population in Nigeria and Peter Obi's Movement." I wrote about the advice I gave to some young political aspirants that visited my office in Lagos about 10 years ago advising them that since they were all in their late 30s and 40s, they can become Presidents in their 50s and 60s because that time they needed 10 years or more to take their movement around the country, build political infrastructure, and attempt to dismantle the hold on the country by political and military partnerships that have kept the country from emerging but they argued against my advice claiming that a third political party was the only answer then.
Therefore, the questions of these young Nigerians reminded me of similar advice to the very young ones that are prepared to follow a movement even if it means waiting for twenty years to realize a better Nigeria. The questions from these Young Nigerians are as follows:
Why did I Newton Jibunoh as a very young man aged 27 embark on an expedition alone driving from London to Nigeria in the Sixties (60s) and was I ready to die since it was not known that anybody has attempted it before me?
Have I been able to put down my experience in a book, also have I been able to derive any benefit to myself, to the Nation and to Africa from such expeditions?
They also wanted to know why the Garden is named after Nelson Mandela and why it was also called Mandela Garden of 95 Trees and Why in Asaba, Delta State?
They also asked why make such expeditions four times and wanted to know if there will be any further expeditions at this old age.
The principal of the school then remarked that Nelson Mandela refused to serve a second term as President even when his people wanted him to continue in office and if I had regarded Madiba as my mentor, why did I make a second, third and fourth expedition and still looking forward to more in the future?
In providing answers to the questions, I had to take into consideration the age of the children and the level of education that is being made available to them and also the level of exposure to the most difficult stage of our Union Nigeria. By doing so, I had a very strong belief that these children may be the ones that will bring about the change and would take the Nation to the Promised Land. I have put together the answers to these questions for the audience that read me in this column and on our website at www.fadeafrica.org.
Firstly, I had friends go on an adventure which I couldn't afford be part of due to finances but really wanted to be part of. Then I was preparing to return to Nigeria from London, so my friend jokingly suggested that we drive through the Sahara. At first, we thought it wasn't achievable but being a goal-getter, I opted to embark on this journey to clear my doubt and feed my curiosity. Curiosity birthed my first expedition. This not only provided the challenge I had always wanted but also the opportunity to be part of something adventurous. I was prepared to die as I got discouraged by friends from embarking on this journey for fear of dying but I was driven by the fact that I was going to experience something adventurous.
Secondly, I have been able to pin down all of my experiences during my expeditions in different books which include "Me, My Desert and I", "How little we Are", "Bridging the Sahara Desert: A Different Perspective" and "Hunger for Power" and my numerous articles in this very column regarding my expeditions. The expedition has put me on the map and footprints in the area of Sustainable Development as my subsequent expeditions were to help save lives by finding how the encroachment of the deserts into our communities can be curtailed. My expedition founded FADE AFRICA (Fight against Desert Encroachment), FADE is an international non-profit organization formed and accredited to the United Nations World summit on sustainable development. FADE was established on May 11th, 2000 (incorporated in 2002) and is vehemently committed to the prevention and control of environmental degradation and climate change with an emphasis on desertification and desert encroachment. It aims to rid the community of their most devastating societal ills stemming from desertification – displacement, illiteracy, poverty, tribal conflicts, food shortage and environmental degradation.
Thirdly, Madiba is my Mentor and I was fascinated by him and his willingness to lay down his life for his people like the biblical Jesus Christ. I was part of the Youth Movement that thrived for his release when he was imprisoned. When the idea for the Garden came up, the only person I could think of the garden to be named after was my Mentor, Nelson Mandela. At that time, he was 95 years old and we had to name the garden "Mandela Garden of 95 Trees" As well as "Nelson Mandela Gardens". Setting up the garden in Asaba, Delta State was a means to give back to my State and have a natural home and park to be remembered for.
And lastly, Nelson Mandela loved humanity and was a leader who decided to be in power for one term and still rendered his service to humanity without being in power. My expeditions are a different style of service because the issue of desertification has continued to threaten not just eleven states but a bunch of African countries and I will continue to fight and propagate for the rest of my life and until the encroachment of the desert is curtailed.
There is also the Desert Warrior Initiative involving the younger generation mainly to ensure the passing of the torch to the next generation who will continue the advocacy for a better environment with more emphasis on checking the encroachment of the desert mainly to ensure that the campaign is taken to perpetuity after I am no longer able to continue.