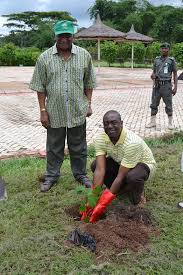 I took a break from writing this column a few weeks ago after 5 years but yielded to those who always believed in me and those who followed my advocacy for forty years and contributed to my thoughts. The main reason is that I turned 85 years old on this planet earth and I needed time to plan a very special celebration that is anchored on those forty years of advocacy in my quest for the revival of the ecosystem and the replenishment of our environment that has been so badly damaged in the last half a century.
It was on 1st January 2023 and I invited 85 personalities from all over the country to celebrate and mark my 85th birthday with the planting of 85 trees. I have received messages from all over the world, particularly from those that were unable to attend, but for me, a take-home benefit to my advocacies and writings that are read all over Nigeria and beyond is the fact that this weekly column may continue to be written after me because it has become a movement. I recall that I once asked the editor-in-chief of the sun newspaper how long they are prepared to feature this column; his reply was startling as he said forever.
I show appreciation to all those that planted 85 trees with me and those that sent messages, those that wrote and rendered poetry and music whilst the planting was going on, and to a very young undergraduate that wrote a beautiful poem for me that she performed on the day. And, for my good friend Wole Soyinka who asked that I organize another expedition across the desert for those above 80 without him as he would like to be at the other end of the Sahara by the Mediterranean to receive us.
I will like to highlight some people, messages and writings from my 85thin this column to show appreciation for the support that I have received from all over the world.
The Emirs of Kano and Bichi were duly represented at my birthday celebration by Princes Abdulahhi Ado Bayero and Aliyu Ado Bayero. I have maintained a close relationship with the Late Emir of Kano, Emir Ado Bayerowhose foundation was laid over tree planting in Kano and birthed the Wall of Trees in Makoda and greening projects in Kano.
Mr. Aligbe writing from Atlanta described me as a patriotic Nigerian but saddened by the downward spiral of the later-day Nigerian and the degradation of planet earth.
"Dr Jibunoh never ceases to amaze me as he constantly reinvents himself and is refreshingly sanguine about the future of Nigeria, ceaselessly proffering solutions to our myriad of challenges. He is so focused on leaving this world a better place for his children's children and by extension, the rest of humanity that he is not prepared to stop spreading the message on the environment. The Scripture says that a good man leaves an inheritance for his children's children (Prov. 13:22). The greatest inheritance he wishes to leave behind is a better world that his children's children can share with the rest of humanity, is sustainable and addresses the alarming growth in the size of the Sahara Desert and its attendant environmental, social and economic consequences", says Akin Olukiran whom I have known for years and who also works with me.
Soni Irabor having spent a few days with me at my country home in Nelson Mandela Gardens before my 85th birthday celebration described me as a man of many passions and a lover of nature who does more for Nigeria than anyone may care to admit.
Along the same line, Mrs Fati Attahiru, Chairperson of Attahiru Foundation described me as a man of many parts: a Farmer, Engineer, Foremost Art Collector, Renowned Environmentalist and recently a Columnist and Patron of General Ibrahim Attahiru Foundation (GIAF).
Rufai Oseni of Arise News whom I have known for a decade and who happens to be one of the intelligent young journalists that have crossed paths with me said this of me, "When nobody gave him a chance, he gave himself one, following the stars that only lead to greatness, earning a degree in Engineering, and also doing the unthinkable – travelling back home through the desert in the 60s in Africa. He has since conquered the desert and become the true desert warrior and campaigner for environmental causes. He always will say we are put on earth for a reason and the universe has been here before us so relax, he says that with a lovely smile, so infectious to make hearts melt.
His beaming smile is his trademark but more importantly, his heart of gold and spirit of adventure stands him out. I must say his zest for life is breathtaking and legendary as he continues to shine like the lush dales of Akwukwu Igbo."
My Honorable, Mr Okenmor Fidelis who is the current commissioner of Finance in Delta State and whom I also share a friendship with believed that I have spent my entire life preserving the environment for the comfort of its inhabitants including mankind.
Bunmi Obanawu, a colleague and someone who is like a daughter to me called me a man who never stops fighting and believing in a better environment and a better country.
Oluebube Okafor, my assistant who works closely with me and had joined the list of people writing with me described me as a "man in every sector, a man who has experienced everything, used every tool at his disposal to offer solutions, and is still willing to express his ideas."
In all of this, I appreciate everyone who took out their time to celebrate me and who is still celebrating this young man, my family, my friends who travelled from afar, the staff of Nelson Mandela Gardens, FADE Africa and Didi Museum. The gifts, the wishes and the pledges to join in greening the world is dear to my heart. Each one, Plant One Tress. This is the Message.