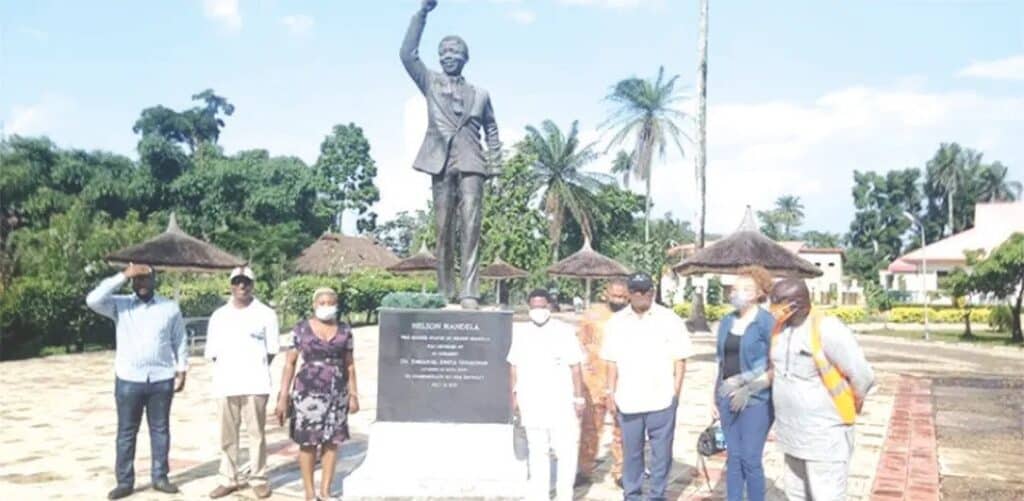 Writing this column every week for almost five years researching and finding topics and titles that touches on our political and structural development have provided me the opportunity to showcase my love for my nation Nigeria; the country that gave me so much for the almost Eighty five years I have spent alive. I have spent a fraction of my years traveling, sharing and making friends all through the length and breadth of this country. These friendships not only lasted the test of time but opened doors for me to enter many traditional palaces in Maiduguri, Kano, Warri, Sapele and Ibadan, also State houses and homes in Ijebu igbo, Onitsha and Enugu knowing my country and cultivated friendships despite our diversity.
All this may have contributed to the person that I am, an adventurer and explorer extraordinaire establishing relationships in Niamey and Agadez in Niger Republic, Tiko and Douala in the Cameroons, Casablanca in Morocco. Also visiting South Africa, Rhodesia now Zimbabwe, Angola and Mozambique during the Apartheid Era. I have also lived in Israel, visited most parts of the United States of America and lived in the United Kingdom.
During this Era, I witnessed how much respected Nigeria was and how most countries of the world looked forward to the emergence of Nigeria. The Americans, Europeans, East and West came to be involved in the new Nigeria. The French, the Germans came with a joint venture partnerships in building infrastructures and it was a very healthy competition amongst them because there was enough to go round.
Now, I want to share an encounter I once had with bandits outside Timbuktu in Mali some decades ago. They stopped me and wanted to know who I was and the purpose of my mission in that part of the Sahara. There were six of them and I discovered that only one of them spoke English. I was terrified because some of them were in a hurry to have me killed but the one that spoke English asked to see my passport. I was reluctant to give them my passport for the fear that they may not return it to me but he snatched the passport from my hand and I heard him two times say to his mates "Nigeria, Nigeria". I saw their whole anger change, it was then explained to me later that they saw Nigeria as a country that was not in war but was the frontline freedom fighter that helped Rhodesia to become Zimbabwe; that helped with the liberation of Mozambique and Angola and was also campaigning for the liberation of South Africa. I was then asked to make tea for everyone, we all drank and they ensured my passage to my next destination.
I was later to be informed by one of our Ambassadors that same bandits were responsible for the killing of 5 French nationals in the desert resulting in the reason behind moving the Paris to Dakar Rally to South America. That Nigeria was instrumental in global development and carried along the rest of Africa.
Today, most countries of the developed and developing world are asking their Nationals not to visit Nigeria and most International Insurance Companies cannot insure businesses to do with Nigeria. Airlines are packing up and foreign investors are withdrawing their investments from Nigeria. An Ambassador to Nigeria that is a very good friend once told me that "his postings to Nigeria was once seen by his people as a punishment". He stayed in Nigeria for 4 years but was very sad to depart and it was during his Sendoff Party that he told us the joke. A very few foreign investors that are in Nigeria today are having a field day but at great cost to Nigeria, making our economic emergence difficult with cash and carry investment mainly because of the instability and imbalance in the finance and political System. Most of them make the kill, go back to their country and never return.
Sectors like the financial, oil and gas and infrastructure of our country has seen the participation of European countries, East and West and some Americans with very little or no risk, however, these countries and companies retain a stance of non participation in bringing their businesses or investing in Nigeria after making a kill.
No country of the world can do it alone without good and competitive friendship, not even the most industrialized, the most powerful and the most rich. The friendship we seek will make for the sharing or stealing of intellectual properties like was done by countries like Japan and Taiwan after the World War. Look at where they are today after 60 years.
In the year 2000 during my second expedition traveling from Nigeria to Europe across the Sahara alone, the then Nigerian Ambassador to Morocco arranged for me to pay a courtesy call on the Mayor of Rabat, Morocco. The Mayor in his remark stated that it was so nice that Nigeria had woken up at last for taking a lead in the fight against desertification as was always expected. The trans-Saharan project and the highway which was the brain child of a few heads of state in the 60s led by our then Prime Minister Sir Abubaker Tafewa Balewa is still where they left it with little or no progress for almost 60 years. That project was meant to open up the rest of the continent but it is stagnant as majority of the developmental projects pertaining to Nigeria are.
Despite the North African Countries' proximity and relationship with Europe, they had always depended on Nigeria for leadership especially in combating desertification, land degradation, global warming, drought and climate change. They saw Nigeria as a big brother also because of our size, our diversity, our human and natural resources but saw all that becoming cancerous in the last few decades we've been in existence. So by now, most countries are looking elsewhere for that kind of leadership where there is stability, assurance of good returns in business and investments, devoid of chaos, government interventions and interference through biased regulatory actions.
I have a strong conviction that some of our neighbors may be looking at replacing Nigeria as a Leader and that will be most unfortunate if we lose completely the leadership role we played in the 70s, 80s and 90s. However, he who falls may rise tomorrow'. We have multiple opportunities to make our rise from the present and transcend into the beauty of multiple tomorrows. We have the educated individuals, resources, talent which is globally recognizable even in our slumber and currently, we are stepping up in the field of science and technology.
We are also a determined set of individuals and I say this because we have come a long way as a country of various differences, joys and pain and determination has kept the private businesses, old and new striving in the face of economic meltdowns and infrastructural deficiencies. It is most important that we recognize that the only things we can do as country people of this great but slumbering nation to reclaim our place in the development of our country, Africa and globally is to support the positive growth of efficient leadership, groundbreaking and forward ideas, the diversity of our economy especially through investment in local industries and the exaltation of collaborative growth.
I hope more Nigerians have the opportunity of forming meaningful relationships like I have done and also strive for working collaborative relationships which will necessitate and sustain growth.