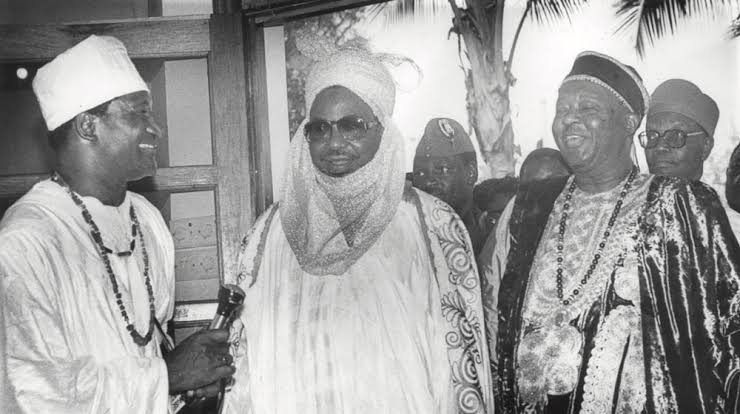 The last few months after the appointment of Kashim Shettima, a Muslim as the running mate to the APC presidential candidate Asiwaju Bola Ahmed Tinubu, a Muslim; the Press, print, electronic and social media have been agog with some analysis, comments and scandalous remarks making it look as if Muslims don't like Christians and Christians hate Muslims. Reading all these remarks and listening to all the comments shows that most of us do not understand what LEADERSHIP is about.
I have written a lot on leadership in this column in the last 5 years and I will go back to sharing some with the hope of learning from some of the writings. A few years ago, I was invited by a French University in Paris to deliver a graduation lecture on leadership and the lecture was published in this particular column. But before I share more, let me state that my best time and education in this beautiful country is living and travelling around the world without thinking about my tribe or religion. I have led groups in Talata Mafara in Sokoto and the same leadership position took me to the palace of different Emirs in the North and became friends with the late Emir of Kano, Alhaji Ado Bayero and now with his two sons, the present Emir of Kano, Alhaji Aminu Ado Bayero and the Emir of Bichi, Alhaji Nasiru Ado Bayero. Also, the palace of the late Oba of Benin, Omo n'Oba Erediauwa, and the late Ooni of Ife, Oba Okunade Sijuwade.
This education made it possible and easy for me to lead a multinational organization for 16 years. Being a Nigerian was enough for me but before I draw from my previous writings on leadership, let me ask my fellow Nigerians a few questions.
Will it matter if we seek a Southern-Southern ticket that can lead this country out of the shameful and leaderless situations we find ourselves in the last few decades?
Will it matter if we seek a Northern-Northern ticket that will deliver security, education and good health?
Will it matter if we seek a Christian-Christian ticket that can rid this country of corruption and mismanagement of our natural and human resources that have crippled the Nation's economy and reduced the value of the naira to invaluable value?
Will it matter if my sons and daughters can travel the length and breadth of this country the way I did in the 70s, 80s and 90s?
If Atiku Abubakar becomes President in 2023 and can stay in power for 8 years as provided in the constitution, power would have remained in the North for a period of 16 years after Buhari. But will it matter if he can bring back Nigeria to the aspirations and dreams of the present generation that has been waiting for the emergence of the nation as a global player thereby creating opportunities for the coming generation without favouritism?
There have been a few Christian Presidents since independence. What have they done for the Christians? There have also been many Muslim Presidents and Heads of government. What did they do for the Muslims? Nigeria is supposed to be a circular state as contained in our constitution. The British that ruled us for hundreds of years is a Christian Empire but not much was said by the critics then regarding their reign. My research tells me that they worked very well with Muslims in Nigeria and worldwide.
As we now mourn the passing of the Queen of England, Her Majesty Elizabeth II, it is important to note that she was also my Queen who ruled for almost 80 years and showed leadership as can be seen from the outpouring of grief from almost every part of the world. That is because she assumed leadership and brought stability to the Royal Empire, particularly during a crisis. She was said in reply to critics over her meeting and shaking hands with a leader of Sinn Féin that attempted to kill her and she replied to the critics by saying, "you only make peace with an enemy, not with friends".
She was a great leader and I mourn her because I sang in my school days "GOD SAVE THE QUEEN"; before her, I sang "GOD SAVE THE KING". Nelson Mandela also showed leadership to his people even from Prison for decades and continued to show leadership after 27 years of incarceration.
Leadership, therefore, is about sacrifice for those you lead not your religion, not your tribe, and not your money. Leadership is about humility, understanding those you lead, and knowing where and how to lead them.
For a better understanding for my previous and new readers on what leadership entails, I would like to lift a part of my previous writing on this very column with the title, "Leadership in Nigeria: the search continues", I opined that "Leadership is knowing when to quit the stage", an attribute greatly lacking in most of our African leaders.
The simplest definition of leadership by the Merriam-Webster dictionary "is the power or ability to lead other people". The ability to lead can further be distinguished by physical ability, mental ability, and in some cases, spiritual ability. The bottom line is before an individual can assume the position of a leader; they need to have the capacity to lead. Another important characteristic of a leader is a man/woman of integrity. Leadership is honesty that can be held accountable to the people that are being led at any time.
The issue of misrule and poor leadership is not exclusive to Nigeria, as many other African and non-African countries have had their fair share of the problem in varying degrees but, unlike "the giant of Africa," a number of these countries have managed to and are working earnestly towards building a nation to be proud of. But not Nigeria.
If we take time to reflect on the leadership journey in Nigeria, from Independence to date, it forces us to ask if our leaders were prepared for the challenges and obstacles they faced. With that being said, I find it very odd that we still worry about Religion and Tribe before electing a leader.
Some decades ago, the presidential flag bearer MKO Abiola,a Muslim, picked Ambassador Babagada Kendibe as his running mate, also a Muslim. Most of today's political players in PDP and APC were going in the same party with MKO.
The Issue of the unworkable Muslim-Muslim ticket then was not in discussion and as it turned out the election of MKO and Babagada as presidential running mates respectively was the best election ever conducted in this country and was so attested not only in this country but globally.
Therefore, what we see and hear happening today is hopelessness and backwardness of our political structure and development and not based on whether it is a Northern-northern, Southern-southern, Christian-Christian or Muslim-Muslim ticket.